Silent Rebel Yell
Jul 31
[video]
Dec 01
[video]
Nov 29
catlitternwhiskersonkittens asked: HAPPY BIRTHDAY!!!! I'm sure getting Bruce tickets on this day is a sure fire sign that good things are in store for you in this upcoming year!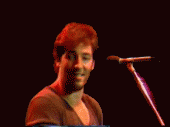 Aw, thank you!
[video]
Best Birthday EVER!
Today is my birthday and it's probably the best birthday ever. And no one has given me anything. Today at 9.00 am I sat by the computer with a pulse of about 180 and guess what
I HAVE TICKETS TO BRUCE SPRINGSTEEN!
I found out last Thursday that he's coming here and I've been a nervous wreck ever since. I've had nightmares about not getting tickets. I can't believe it! Isn't it just fabulous and amazing and wonderful that something like this can happen on your birthday?

And now I'm all
Nov 24
All this waiting…
drives me crazy. Bruce! Why can't you just announce all the dates for the European tour right now? I can't take it much longer.
Instead of comfort eating I've been comfort buying. Tickets. Today. To Black Sabbath.
Nov 22
Bruce Springsteen European Tour 2012
I couldn't breathe when I found out. Literally. Oh my god, just the thought of seeing and hearing Bruce live makes me… I don't have words for it. I don't care what I have to do to get tickets. I'm going!
And please announce the goddamn dates! No, I don't care about the four dates announced for England. By the way, FOUR concerts in England. Seems fair. NOOOOT. (Ignore my aggressive rant. I'm just being impatient.)
Until I know all the dates for the European tour:
Nov 12
[video]
Nov 11
Such a great picture and all I can think is how tight those jeans are.
Awww!
Nov 08
#Bruce Springsteen looking fine 
(Source: davidcoverdaleshairspray, via catlitternwhiskersonkittens)
Nov 03
—submitted by silentrebelyell
 Aw, look at that. My submission. Love the colors.
Listening to Bob Dylan and getting ready for my 'date' with him and Mark Knopfler tonight. And no, it's not just in my head.
I hope I'll be back with lots of great pics to post tomorrow.
(via ihadovariesonce)
Nov 01
I don't care if I'm Tumblr famous or not but it's nice to know that there are some people out there who actually see the things I post.
So, thank you followers.
(via echo-of-a-distant-tide)
Picture: Dyrk Daniels/ Solent News & Photo Agency
(via creepicrawlies)